SIGNED JEWELRY
---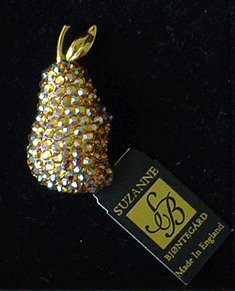 B109
Suzanne Bjontegard 2" x 1" bitten pear pin with topaz colored rhinestones.
Very stunning.
$50.00
---
B119
Edgar Berebi "Dance of the Flowers". Two gorgeous 3" x 1-3/4" flower pins.
Three dimensional rhinestone stamen. Limited edition, in original box.
$45.00
---
B121
Edgar Berebi "Musical Splendor". Lovely 2-1/2"x 2-3/4" goldtone harp.
Pearl and rhinestone accents. Limited edition is original box.
SOLD
---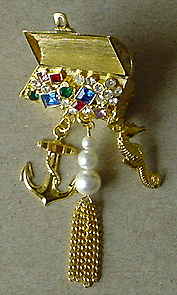 B120
Edgar Berebi "The Treasure". Very dimensional pin, 3-1/4 x 1-1/4"with great colored
rhinestones in a goldtone pirate chest with dangles. Limited edition is original box.
$45.00
---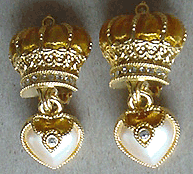 B116
Edgar Berebi crown earrings. Dangling pearled hearts with rhinestone accents,
clip earrings 1-3/4" long.
$35.00
---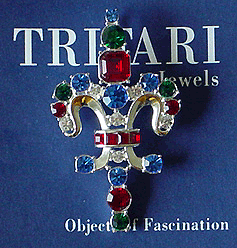 B113
Trifari 1-1/2" x 2-1/2" pin/pendant. Silver metal with big bright rhinestones.
Comes with hook for hanging. Dated 1997. Comes with original box and card.
$65.00
---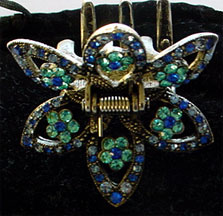 SB382
Carolee classy rhinestone comb clip. 2" x 2" x 1"
$30.00
---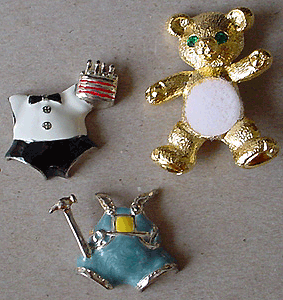 B115
Edgar Berebi "Teddy Bearebi". Oh my gosh, how cute can it get? Please click on picture
to show you Teddy bare. Velcro holds a change of wardrobe, work cloths and a tuxedo.
He's 2" high with bright green rhinestone eyes. Comes in original box with original card
and adoption certificate.
$SOLD
---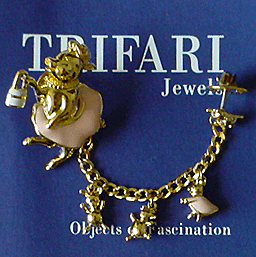 B112
Trifari pigs going to market. Once again a too cute pin. Mom wears pink enamel skirt and
is 1-1/2" tall. Piglets trail behind her on a chain, ending in tack pin piglet, wee wee all the way home.
Dated 1997.
$40.00
---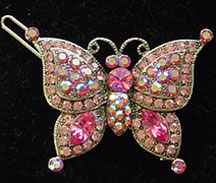 SB397
Carolee pink rhinestone butterfly barrett 1 1/4" x 2". Great for dress up.
$30.00
---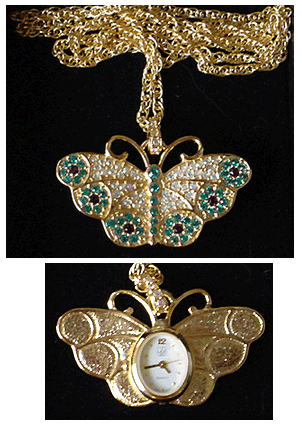 B114
Suzanne Bjontegard butterfly pendant watch. Solid rhinestone butterfly is 1-3/4" x 2-1/4",
hangs from a 28" chain. Click on photo to see back of butterfly and see watch.
This is a beautiful spring accessory. Comes in original box.
$30.00
---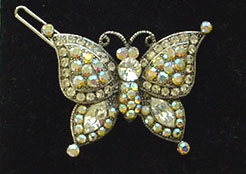 SB397
Carolee rhinestone 1 1/4" x 2" butterfly barrett.
$30.00
---