Dugway Utah Geodes, Mojave Thundereggs, Sonoran Geodes,
Etna Thundereggs

Geodes are spherical nodules usually lined with quartz or calcite crystals,
may also contain amethyst or citrine.
Hardness: 7 - Astrological sign: Virgo
Facilitates the freedom to shape ones future.
Vibrates to the number 9
Limited supply. Shown wet.
Item #R-DM-98
Sonoran Quartz Crystal Whole Rough Geodes - Approx size - 3" to 4 " diameter - $ 15.00 each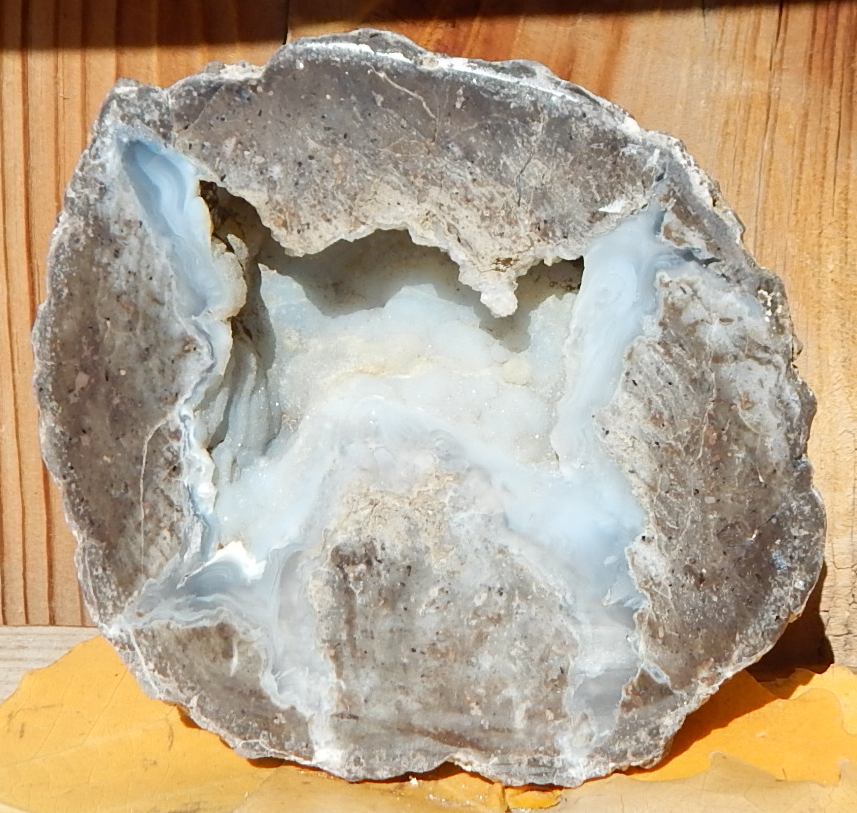 Way cool!
Item #8-SLN
Beautiful Mojave Geode Thunderegg cut & polished half - Approx size. 3.5" x 3.75" x 1.5" - 485 grams - $ SOLD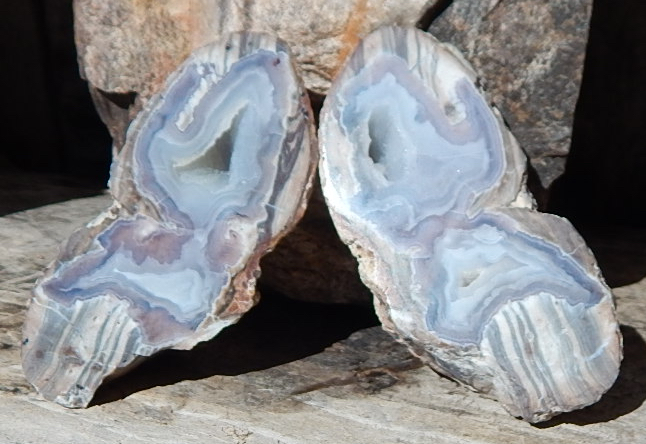 Item #9-SLN
Beautiful Dugway Geode cut & polished pair - Approx size ea. 1" x 3" x 1" - 124 grams - $ 30.00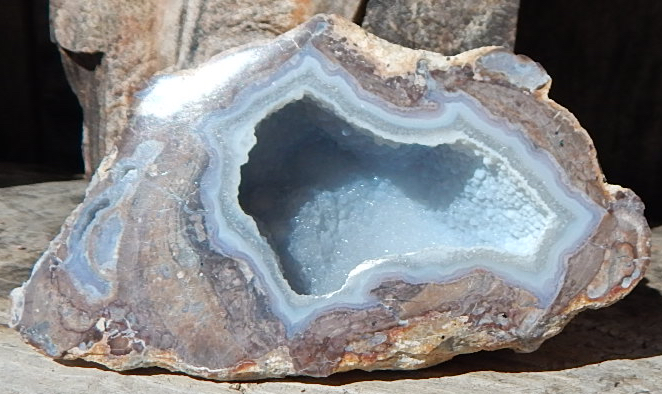 Sparkles
Item #10-SLN
Cool Dugway Geode cut & polished half specimen - Approx size. 2" x 3.75" x 1.5" - 176 grams - $ SOLD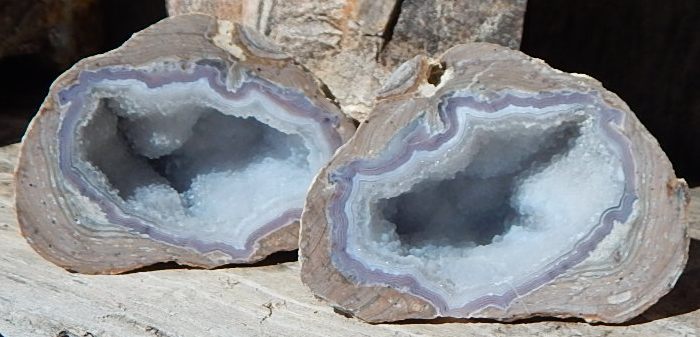 Beautiful lavender/blue colors
Item #11-SLN
Dugway Geode cut & polished pair - Approx size. 2" x 3" x .75 " - 229 grams - $ SOLD
Tasty
Item #12-SLN
Beautiful Dugway Geode small cut & polished pair- Approx size. 1.5" x 2" x 1" - 97 grams - $ SOLD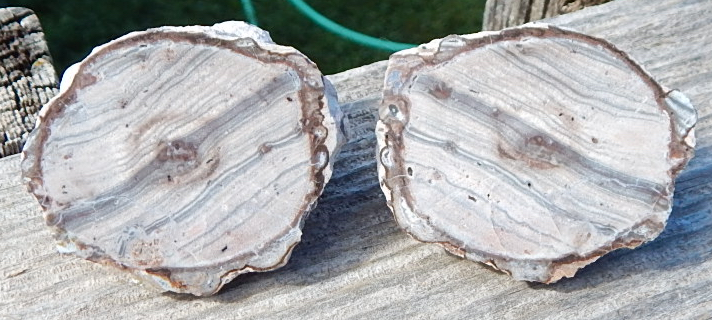 Galaxy
Item#13-SLN
Way cool Dugway Geode Small cut & polished pair - Approx size. 2.75" x 2.75" x 1" - 125 grams - $ 25.00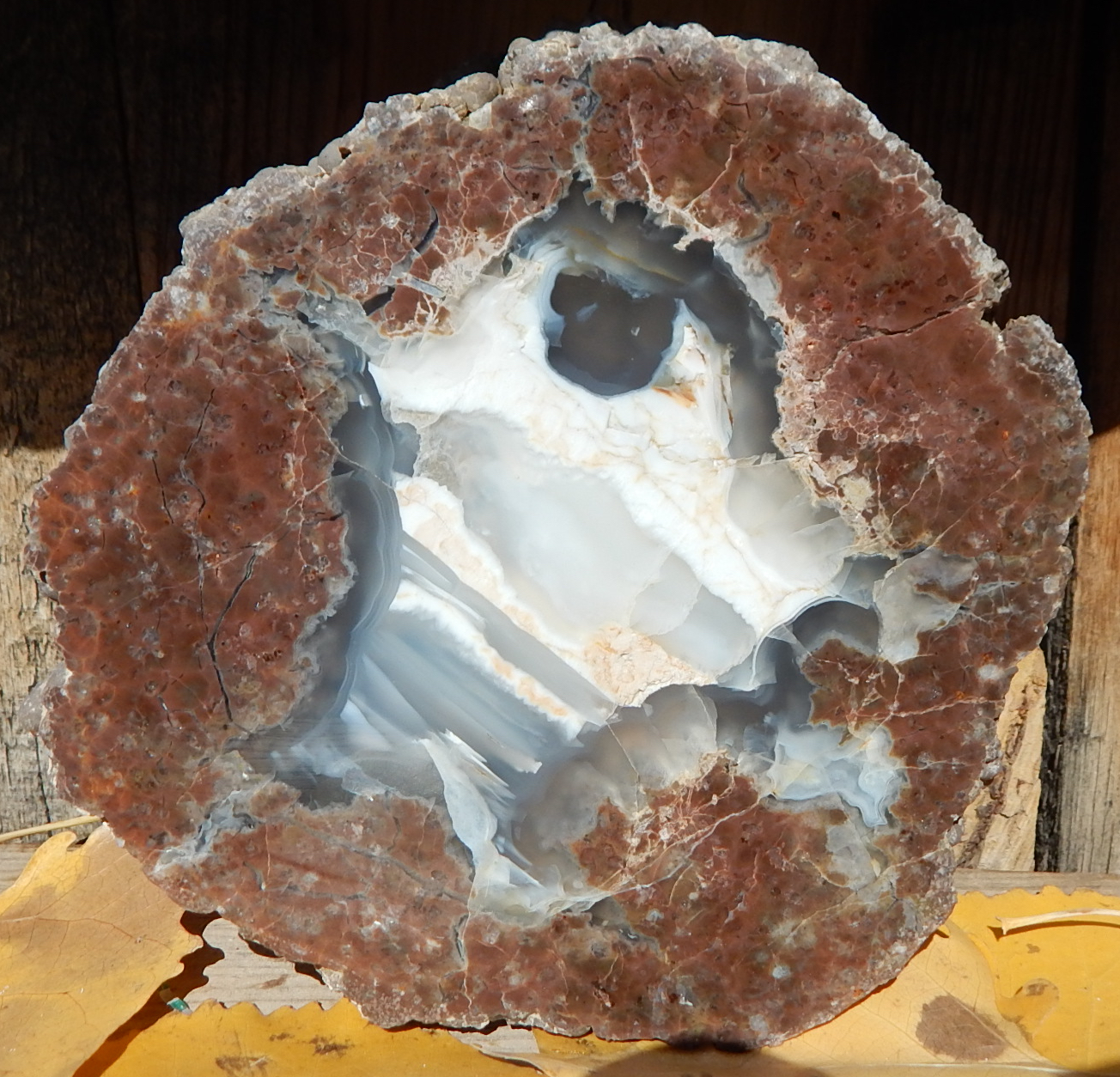 Rare Old Stock - Don't hesitate buying this one!
Item #15-SLN
Beautiful Large Mojave Thunderegg cut & polished half - Approx size. 6" x 6" x 2" - 4 lbs -$ 85.00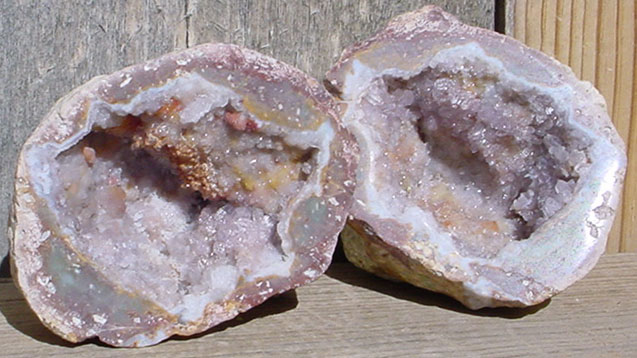 These are cool
Item #19
Beautiful Crystal Mexican Geode Small Cut & Polished Pair - Approx size. 3" x 3.5" x 1.25" - 270 grams - SOLD

We have lots of dugway geode halves cut, unpolished and/or rough. email us.
Geode table
Satisfaction guaranteed or your money back
We accept Credit Cards via phone, Paypal, Company Checks, Checks, Bank Checks & Drafts

1-435-826-4796
---
Website / Images ©2004-Present. Escalante Rock Shop • All Right Reserved.
Webpage updated October 30th 2022.