BEAD JEWELRY
Wonderful glass bead jewelry
---
S25
Black faceted glass bracelet. Glass settings are 1/4" in black medal with clasp closure.
$35.00
---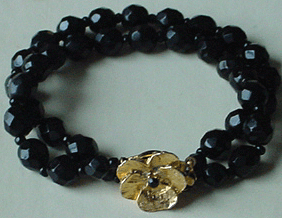 S19
Black crystal bead bracelet with gold medal flower clasp. Beads are 8mm,
two strands, clasp has a rhinestone center.
$25.00
---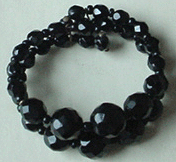 S17
Black crystal beaded bracelet. Two layers on memory wire, beads start at 12 mm.
$25.00
---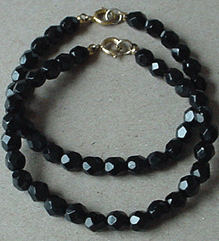 S40
Black crystal bracelets. Beads are 6 mm close with gold clasp.
$15.00 ea.
---
S52
Kramer of New York red and silver love beads. The necklace is 48" and the bead size is 8mm.
$65.00
---

S54
Faux pearls and big colorful love beads in this 48" necklace.
SOLD
---
S53
Milk glass and brown spotted love beads, 50" long necklace.
$20.00
---
S56
Milk glass and colored beads linked together 52" of love beads.
$25.00
---

SB937
Beautiful black and red glass bead 36" necklace accented with hematite beads.
$30.00
---

SB934
Wow! Really big beautiful 54" long necklace
$35.00
---
White Glass Bead Jewelry • Plastic Bead Jewelry
---