BEAD JEWELRY

Czechoslovakian, West German crystal beads, jade, art glass beads, rare beads,
seed beads, love beads, shell beads, wood beads, vegetable ivory, bamboo, plastic, metal.
Be sure to look through all the pages or use the search engine for specific items.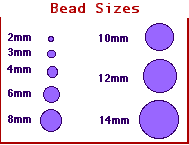 BEAD NECKLACES
Great collection of vintage and collectible glass beads
---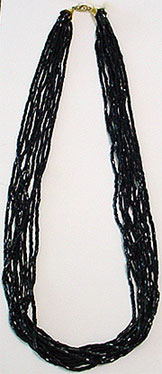 SB907
Black bead 24" multi-strand necklace.
$28.00
---
S42
A beautiful collection of vintage crystal beads in clear and rainbow colors.
Average bead size is 8 -10 mm, 40" long, with gold metal clasp.
SOLD
---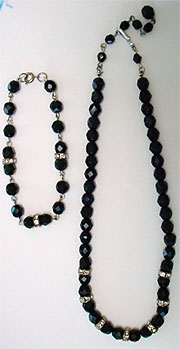 SB911
Vintage, black with rhinestone accent, 16" necklace with bracelet.
$28.00
---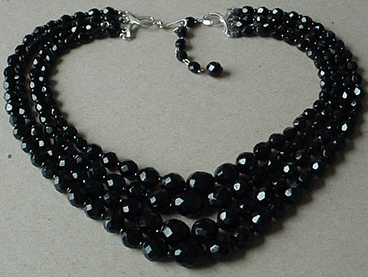 S36
Wonderful four strand black crystal necklace. Beads start at 12 mm spaced
with seed beads. Outside strand is 36".
$SOLD
---

S32
Laguna two strand black crystal necklace with rhinestone catch.
Beads start at 12mm, necklace is 18" long.
SOLD
---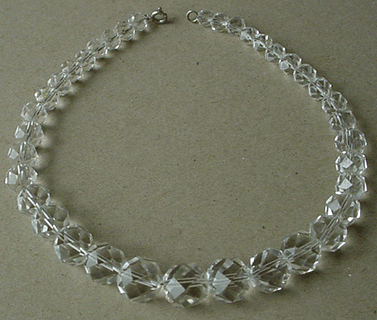 S43
Crystal bead 14" necklace. Beads start at 14mm, it's like wearing a fairy ring.
I don't think the clip is original , the beads are big and beautiful.
SOLD OR MISPLACED
---
S35
Black crystal bead 18" necklace . Beads start at 18mm (!), I don't think the clasp is original,
the beads are big and beautiful.
$45.00
---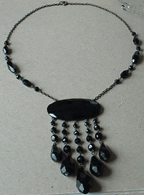 S34
Vintage black crystal 18"necklace with large, 1" x 2" faceted glass center piece.
The necklace hangs 4" more below chain. It has a couple of foibles the beads are wonderful.
SOLD
---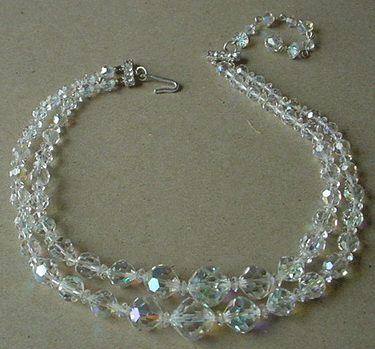 S44
Aurora borealis crystal 18", two strand necklace. It has a rhinestone clasp signed
Japan, beads start at 12mm.
$SOLD
---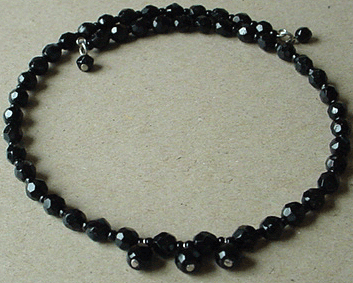 S37
Black Crystal choker on memory wire with 3 dangling 6 mm beads.
$25.00
---

SB913
Black bead 24" necklace with rhinestone accents.
$28.00
---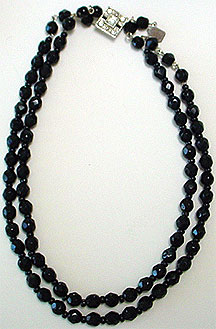 SB909
Vintage black bead necklace, 14" with rhinestone clasp.
$ 40.00
---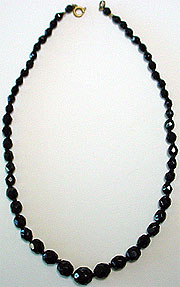 SB912
Vintage 16" gradient black bead necklace.
$18.00
---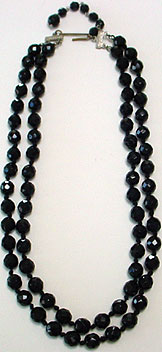 SB910
Vintage black bead Austria 18" necklace.
$34.00
---

SB908
Black bead 20" necklace.
$24.00
---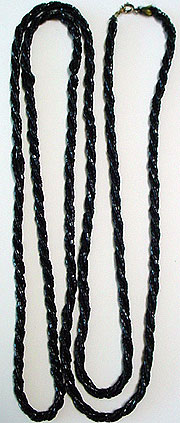 SB914
Vintage 48" nice old black bead flapper necklaces.
$30.00
---
BEAD JEWELRY PAGE 1 2 3 4 5 6 7 8 9 10
White Glass Bead Jewelry • Plastic Bead Jewelry
---